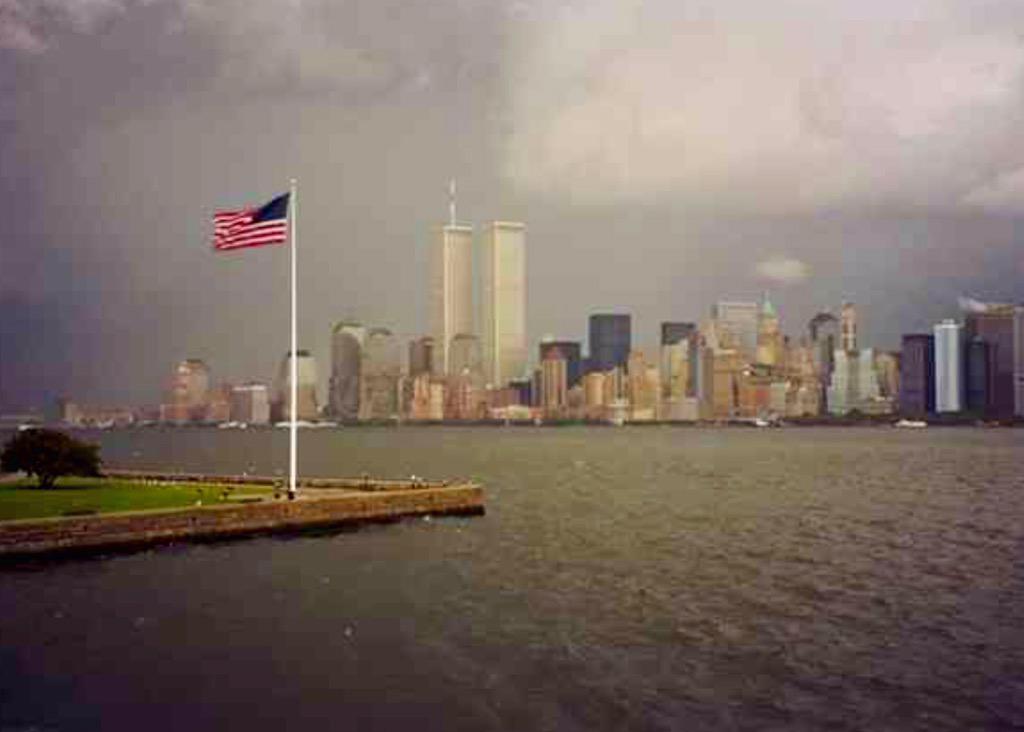 Photo taken by a Canadian tourist, September 10, 2001
Once again it's time to take a moment to commemorate the 9/11 attacks of 2001. I've done this on a regular basis before partly because it's important to remember and partly because of the roll soaps play in all the national tragedies. The most famous tragic connection with soaps was when Nancy Hughes was interrupted mid-sentence on As the World Turns to announce President Kennedy had been shot. However, it was the 9/11 tragedy where soaps were most effective and most important in helping people deal with the national panic.
As the 9/11 attacks happened (many people saw the second plane crash in real time since cameras were there to cover the first crash) everyone gathered around their TV sets for information, misinformation, and a sense of being connected with everyone else. The terrorists definitely succeeded in confusing everyone. No one knew exactly what to do. There was no model to go from. It reminded me a bit of when the band conductor fainted while the school band played the national anthem at our local Memorial Day service. No one knew if they should stop or finish playing it. Schools across the country didn't know if they should dismiss classes or maintain the routine for the students. I worked at a high school at the time and it was a big debate did we cancel school or not? (Our school didn't cancel, other schools did.) Should they break the news or let parents do it? Did you play scheduled sporting events or not? Can you really work when you were obsessed with the news? The networks all went into constant news and commentary broadcasting. Soaps were all temporarily pulled along with other entertainment broadcasting. September 11th fell on a Tuesday so Monday episodes had gone out, but not the rest of the week. As life settled into the new normal things slowly began to resume. Soaps on all networks announced they would replay the previous Monday's episodes  on the Monday following 9/11 and then play out the rest of the week originally scheduled for the week of September 10th. I think that might be the only time this kind of blanket repeat has happened.
Soaps effected the Americans in crisis by providing comfort and stability for people when they continued to gather around the metaphorical fireside of television after the news coverage ended. Lapsed viewers caught up with old friends and lost family members. People used to tuning in and waiting for further news reports, still tuned in and were comforted by family interactions even if they didn't know these families. Sadly it didn't translate into long term higher ratings, but I truly believe soaps played an important role.
The following July 4th the Bauer BBQ Guiding Light paid tribute to America, patriots, and those who died in the attack on America:
After they resumed soaps were effected in the short term. Violence was toned down. Storylines already approved as normal were suddenly deemed too violent and were scrapped. On Guiding Light when Josh Lewis time traveled through a painting to World War II Paris he had to hold up the Nazi who looked just like Alan with a baguette instead of a gun as originally written. Other stories already shot on various soaps on all the networks were re-edited to be toned down or disclaimers were added "This show had already been filmed before the 9/11 attacks."
In the long term soaps were mostly unaffected. Few main characters on any of the soaps went to war. (Exceptions were Phillip on Days of Our Lives whose resulting prosthetic leg was a big story point for awhile, but now has been totally forgotten and Brot on All My Children who was cast with an amateur actor and real life severely injured vet.) Violence gradually returned to pre-9/11 levels.  So in the long term I don't think it did really effect soaps, except that some people sought them out again as comfort food in such an unstable world.
More about the effect of popular culture healing the nation's wounds from We Love Soaps.
http://www.welovesoaps.net/2011/09/popculturesavedamerica.html
Tweets from actors on the 2009 anniversary of the attacks
http://www.welovesoaps.net/2009/09/latest-in-soap-tweets-remembering-911.html
Robansuefarm is the handle of one of Manny and Guiding Light's biggest fans following in her family's footsteps of Guiding Light fandom since 1939. This blog is an effort to make it easy to find Guiding Light and especially Manny online. Check back here for her blog, find fanfic previews and fake WSPR newscasts on her YouTube, find podcasts that look back to old shows and audios of her fanfics on Blog Talk Radio, and finally follow her on Twitter and Facebook.
Tags: 9/11 Attacks, GL, Guiding Light, Soaps and Tragedy